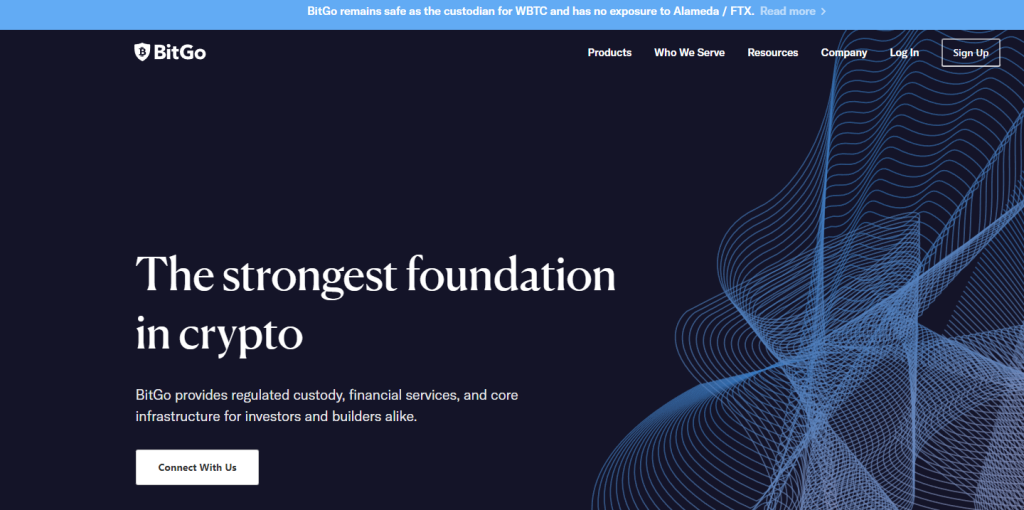 WEBSITE: https://www.bitgo.com/
EMAIL: [email protected]
About company:
Crypto wallet Bitgo provides services for the exchange, storage, sending and receiving of various types of electronic money.
bitgo
List of supported coins
Bitgo allows you to open wallets for Bitcoin, Ethereum, Ripple, Litecoin, Bitcoin Cash, Stellar Lumens, Zcash, Algorand, EOS, Bitcoin Gold.
In addition, the site announced a partnership with more than 200 coins of various types. Among the supported currencies, there are those whose accumulation allows you to receive income from 7% to 13% in the deposit format.
How to use the Bitgo wallet
The wallet only works in the browser. To register, you need to go to the official website bitgo.com, fill in all the fields, enter personal data and indicate the contact phone number, mail.
Bitgo offers two authentication formats: Google Authenticator and Yubikey. The user can choose the one that is most convenient for him. After registration is completed, a login key will be sent to the mail.
Getting into the personal account, the user creates an account for a certain currency or even several. Each new account must have its original name and its own Backup Key. It is recommended to duplicate all login information in a safe place.
To send funds, go to the "Send" tab. The address of the storage, the size of the transfer are indicated there, you can add a comment for the recipient.
The request for money is in the "Receive" tab. By going to this section, the user receives a unique public wallet address. It should be sent to the sender. It is convenient that this address is generated every time on a new one.
Bitgo limits and fees
For all outgoing transactions, the wallet charges a commission in the amount of 0.25% of the transfer body. For transactions with Bitcoin Gold, the commission is 1%. The miner also charges a commission, which is calculated depending on the workload of the platform.
Conclusion
Bitgo focuses on platform security. Accounts and assets are reportedly protected by the innovation system. The service has the option of anonymizing transfers. Both private and confidential transactions are possible. All client information is encrypted.
Accounts are under three keys:
Client key – created by the client, stored only by him, used to initiate all processes and operations.
Backup key – generated automatically and stored offline, used for emergency access recovery.
BitGo – used to confirm transactions after all company policy rules have been met.
BitGo stores funds in a cold format. The platform has an insurance reserve of $100 million.
BitGo is known to be used by BitBay, Bitstamp and UPbit, Ripple, Civic, CME Group, Genesis, Celsius platforms.
Before starting a BitGo wallet, it is recommended to read the reviews.