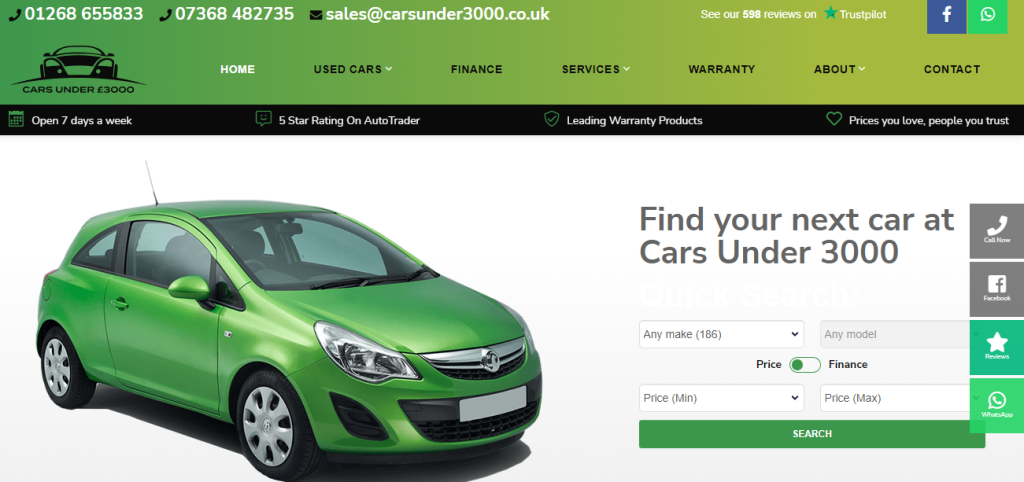 WEBSITE: HTTPS://WWW.CARSUNDER3000.CO.UK
PHONE: 07368 482735
ADDRESS: LONDON ROAD, RAYLEIGH, SS6 9ES
EMAIL: [email protected]
About company:
CARS UNDER 3000 IS A FAMILY RUN BUSINESS IN RAYLEIGH! OUR AIM IS TO PROVIDE A FIRST-CLASS SERVICE AT AN AFFORDABLE COST, AND WE DON'T BELIEVE ANYBODY DOES IT QUITE LIKE US…
WE KNOW BUYING A USED VEHICLE ISN'T ALWAYS EASY. AND SO, OUR AIM IS TO MAKE THE PROCESS AS SIMPLE AND ENJOYABLE AS WE POSSIBLY CAN. WE DON'TJUST WANT YOU TO COME ONCE AND LEAVE WITH A CAR YOU'RE SATISFIED WITH. WE WANT TO BUILD A RELATIONSHIP, THAT BRINGS YOU BACK TIME AND TIME AGAINFOR ALL YOUR MOTORING NEEDS…
WHATEVER YOU'RE AFTER, BIG, SMALL, 7 SEATS OR CONVERTIBLE… PETROL, DIESEL, FIRST TIME CAR OR A VAN FOR WORK. GIVE US A CHANCE TO PUT YOU IN THE RIGHT VEHICLE, AND FOR THE RIGHT PRICE…
OUR TEAM IS DOWN TO EARTH, FRIENDLY, AND EXPERIENCED. WE'VE SOLD THOUSANDS AND THOUSANDS OF CARS BETWEEN US AND WE'RE CONFIDENT THAT BY NOW WE KNOW EXACTLY WHAT YOU'RE AFTER. SO, WHAT ARE YOU WAITING FOR, GIVE US A CALL TODAY, OR FEEL FREE TO COME AND SEE US FOR A CHAT OVER A COFFEE OR COLD REFRESHMENT!
WE LOOK FORWARD TO SEEING YOU VERY SOON!
THE CARS UNDER 3000 TEAM!